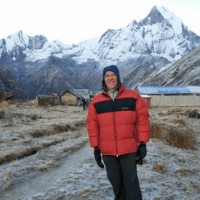 Wes Rawlins, United States
Why I choose Nepal Hiking Trek
If you are looking for a reference regarding a tour operator for the EBC or the ABC, the first question you need to ask is do you contract with a big name, western-based tour operator or go with one of the 1600+ local Kathmandu tour operators. Here are a few thoughts, as there are Pros and Cons to both.
To me, it all boils down to the Risk you are willing to take as all tour operators are not the same. Like anything, there is a spectrum from good to bad. In reality, picking a poor operator can be worse than just experiencing a disappointing adventure. Your trek can be a total fiasco if your guide and/or porter abandons you prematurely, leaving you high and dry on the trail. It happens.
Many think the safest bet to ensure a successful and safe trek is to choose one of the expensive tour operators out of the US that is a time-honored company who cherishes their reputation. They have a beaten path and muscle memory with selected hotels, highly purposed staffs and hopefully a deep bench of locals. Big companies drive large numbers hence economies and disproportional profits as it relates to their smaller competitors. Safest, perhaps, but strict constriction treks are not for everyone.
One of the biggest drawbacks I found when you go with a big-name US-based tour operator, beyond the expense and their inability to truly inculcate themselves into the culture, is you will most likely get mixed-in with various skill levels of hikers so the roster can be filled up. Here, if you are on the fringe such as a slow walking pictures taker, you will feel pressured to keep up and if you are fast pace hiker you will have the daylights choked out of you. Diverse hiker etiquette within a scrambled group can also be a very bitter pill.
With that said, if you are looking for a more customized and controlled adventure, going with a small operation might be a good option. Here you get the flexibility to pick your schedule, more choices of accommodations and meals, side trails options, increased personal attention, etc.
With a smaller tour operator, you may have more control over what I consider is the leading indicator of a successful adventure, the quality of the guide and how well he or she speaks English. (Either way, you go, a large or small operator, a big part of the experience and success of the trek is predicated on your ability to understanding the guide's English. Here it does not matter if you have chosen a large or small tour operator, I have used both and, in each instance, I have found poor communications tends to kill a trek dead in its tracks. It is like day old Coke, no punch).
There seem to be two schools of thought about guides. The first is that the best guides tend to work for the big named operators. The second is, if you look, you can find excellent guides that are top-shelf working for small local tour operators, even in the busy season. I just completed both the EBC and the ABC this year. I went with a larger western based company for the EBC and used a local Kathmandu tour operator for the ABC. My wife just had a knee replacement so we needed to select smaller a firm that would let us move at our own pace on the ABC.
Picking the right local operator was key for me so we would avoid many of the pitfalls of a poorly run operation. For example, if you use a small local provider, there may be a concern they do not have the influence to be able to firmly reserve rooms along the trail, especially during high season. At times large groups have significant influence and can step-on a reservation for a single room. My wife and I did not want any chance of getting bumped and having to sleep on the floor in the Tea Room.
There is a seemly endless list of companies to choose from in Kathmandu, which is the right one to pick. Before you start your selection process, you have to know that small, local tour companies live a life of struggle and unbounded demand. This may work in your favor as your business is highly regarded. Now I get it, some people are fine just showing up in Thamel and hiring a guide and/or porter, but what insurances are there that they will get what they were promised, a safe and enjoyable experience. The possible risks that come with "shooting from the hip"
Being guided by a second-tier guide.
How comfortable can you be that a small company out of Kathmandu is able to manage problems along the way with precision and safety?
Does the tour operator truly understand the demands of Westerners?
Way too much risk for my taste.
On the other hand, let's say you put a short list of potential local tour operators together ahead of time and whittle it down to a final choice, now you have to transfer a deposit, say $1,000, to a bank in Kathmandu and not really know if the company will really be there when you arrive six months later. Also remember, it is not uncommon to bundle together smaller disparate groups from multiple tour operators to reach the threshold number needed to commence a trek. How can you be sure you will get a great lead guide or if you will be placed with an assistant-level guide in the razzle-dazzle shuffle? It was very important to me that I could "Cherry Pick" a guide ahead of time.

In short, can you tell with confidence that the tour operator you pick has had a long series of successful treks Between the airfare, cost of the gear, insurance, time away, the training and cash outlays for incidentals, I wanted my choice to be as free from risk as possible but with all the benefits of a two-person, tailored trek.

So, if you want to go with the local company for all the virtues they offer and there are many, how do you find the best match for your expectations. First, you should look at TripAdvisor, Facebook, and Google. You will see hundreds of reviews. You need to be smart about weighing which ones are legit and which ones aren't. With a bit of hard work and research, you can get to a short list of candidates. Contact the tour operators you like and ask to speak to several of their recent and past clients and get their input. I also asked for references that were a few years older so I could establish the longevity and proven performance over time of the tour operator. This should quickly narrow the field.
To help you save some time, benchmark your short list against Nepal Hiking Trek. I used them for my ABC trek. This company executed at every level from the planning to the flawless delivery of a memorable adventure and yes, with a strong English-speaking guide. Nepal Hiking Trek secured the very hard to reserve private rooms each night, all with ensuite western toilets where available, (Hari knows all the Teahouse owners). Nepal Hiking Trek is a safe choice with a steep history of success. They totally customized my trek with the bonus of having a five-star rating on TripAdvisor. Contact Hari at Nepal Hiking and Trek and take a look at the YouTube video of my October 2018 ABC Trek with Hari guiding. https://www.youtube.com/watch?v=Xa-0b8L_rIw
Further information
Wes Rawlins
wrawlins@gmail.com