Annapurna Base Camp Trek is one of the popular classic treks in the world which takes you to the base of the world's 10th highest mountain. Annapurna Base Camp trek is a complete adventure walk through the diverse landscapes, dense alpine and bamboo forests with blooms rhododendrons, and exotic villages rich with ancient culture, tradition, and unique hospitality. With the beautiful views of the mountain vistas and terraced farms, Mt Annapurna is the world's 10th highest mountain with a height of 8091 meters. Its base camp is one of the most popular and famous trekking destinations in the world.
Enjoying the beautiful Himalayan flora and fauna and views of the beautiful snow-capped peaks, Annapurna Base Camp Trek takes you to the lap of the world's 10th highest mountains crossing many natural and cultural beauty. Exploring many culturally rich villages and valleys, ancient monasteries and gompas, you will enjoy every step of your walk.
Annapurna Base Camp Trek includes spectaculars sunrise and sunset views over Annapurna ranges. Annapurna Base Camp Trekking route progresses through the culturally rich villages of the Gurung and Magar community which allow trekkers plenty of the opportunity of witnessing time forgotten culture and also offer the views of the Annapurna and Dhaulagiri Mountains ranges. The trekkers also get the opportunity to explore the evergreen forest of the Annapurna Conservation Area which is rich with various species of rare flora and faunas including rhododendrons, pine, fir trees, musk deer, Leopard, Langur Monkey, reptiles, and many other plants and animals. The forest area is also popular for unique birds.
The itinerary of the Annapurna Base Camp Trek is customizable. You will enjoy the Kathmandu Day tour of UNESCO sites before taking on the popular Annapurna Base Camp Trek.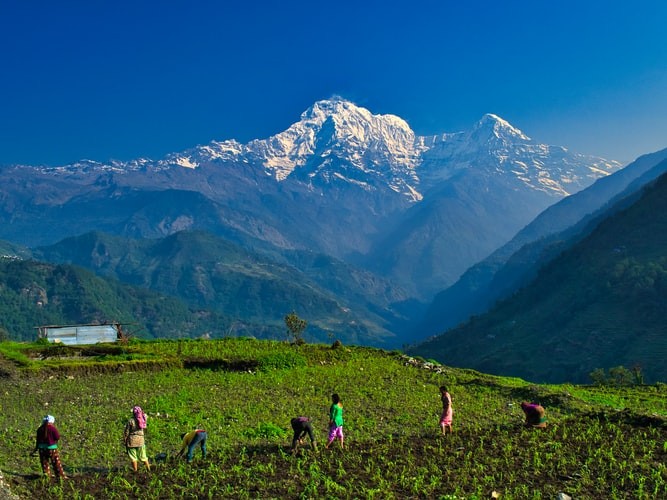 Breathtaking views of more than 6000 meters of mountains are the major highlights of Annapurna Base Camp Trek. This trek allows the soaring views of Annapurna vista, Mt Fishtail, Dhaulagiri, and other surrounding snow-capped peaks. Annapurna Base Camp Trek starts with a short drive to Pokhara which is one of the major tourist attraction cities in Nepal. Pokhara is also known as the lake city and it lets visitors explore several temples and stupas in the city. Annapurna Base Camp Trek is a moderately difficult trek and pre-experience of the trekking is not required.
Annapurna Base Camp Trek is one of the beautiful holiday destinations in Nepal where you can experience everything in Nepal. Go for Annapurna Base Camp Trek and get familiar with the local lifestyle, their hospitality, and much more.